How good are you at aiming and positioning your cursor while playng FPS and such games?
Or maybe you want to test you new clan member's skills?
Here we have prepared a simple test. You click 10 circles on your screen and the program displays the time you have spent and the distance your cursor have travelled and compares it to the minimum distance between the circles.
You can be fast and inaccurate or you can be slow and accurate.
Final coefficient shows how good you are as it divides the time by your distance coefficient.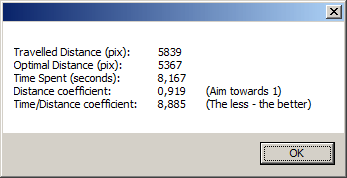 Enjoy. We are open for feedbacks.

PS. Program has been built with c# so anyone can get the source with dotPeek or a similar tool.
PPS. After some tests we assume, that you can probably use this scale to measure your results:
20+ Slowpoke. So slooow.
15 User
12 Gamer
11 Padawan
10 Hardcore Gamer
9 Pro
8 Geek
7 Nerd
6 The Nerdest!
5 Ultimate Nerd
4 PentiumII 266MHz
Finally I'd like to mention that results mostly depend on the mouse adjustments and workspace ergonomy. Most of us have nearly the same reaction and if you are not holding your mouse for the first time or using a trackball then the poor results most likely mean that you have to decrease mouse cursor sensivity and acquire some proper mouse pad

The better results you perform, the better and faster you aim.